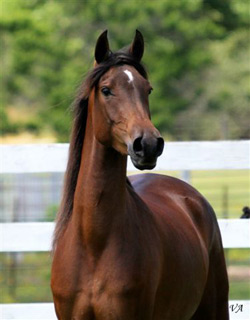 (Baskhazi III X Miz Bopeep V)
2008 Bay Mare
VA MIZ BASKHAZIA represents rare linebreeding to U.S. Reserve National Champion English Pleasure *EL GHAZI, whose get and grandget have excelled in multiple show ring performance divisions from saddleseat to sport horse and who have also done well on the endurance trail. She is a paternal sister to U.S. Top Ten English Pleasure and Country Pleasure GREAT GHAZ OF FIRE and to three times U.S. Top Ten Reining KHEMOS BASKABELLA. She is closely related to 5 time National winner VA BASKHADA, who has won titles in country pleasure and country pleasure driving, as both are by BASKHAZI III out of HUCKLEBERRY BEY++ granddaughters. VA MIZ BASKHAZIA is also a paternal sister to regional champions in hunt pleasure, sport horse under saddle, hunter hack, working hunter and dressage.
VA MIZ BASKHAZIA's sire BASKHAZI III is a son of *EL GHAZI, whose purebred get include National Champions in english pleasure, country pleasure, country pleasure driving, show hack, western pleasure and halter. Notable *EL GHAZI get who have produced National Champions include RY FIRE GHAZI, (dam of 5 National winners including U.S. National Champion Park and National Champion sire IXL NOBLE EXPRESS+ and National Champion English Pleasure and Park and National Champion sire H MOBILITY H) and G KALLORA (dam of 10 champions, 6 of them National winners). BASKHAZI III is a maternal brother to JKF WISTFUL, dam of 4 National winners including multiple National Champion English Pleasure BEL HEIR LR and multiple National Champion Country Pleasure THUNDERLITE. BASKHAZI III's dam WISTERIJA is a 3/4 sister to National Champion producer LESLEI (also by a *BASK++ son out of WESTERLEI+), dam of National Champion Sport Horse In Hand, Sport Horse Under Saddle, Working Hunter and Hunter Hack LESLEIS HEIR++++//.
VA MIZ BASKHAZIA is out of multiple halter champion MIZ BO PEEP V. She is by multiple regional english pleasure champion HUCKS PREMIER V, who has sired National winners in halter, english pleasure show hack, country pleasure, sport horse show hack and dressage. MIZ BO PEEP V is a 3/4 sister to Top Ten Country Pleasure MAGNIFICENT SON V. She is a maternal sister to Top Ten English Pleasure winners AINT SEEN NUTTIN YET and HEIRS ROCK N ROLL and to multiple Top Ten Country Pleasure HEIRS MAXIMUS. Her dam MIZ MARGEURITA V is a daughter of *EL GHAZI and MIZ MARGEAUX V, a member of the Varian Broodmare Hall Of Fame who produced 8 champions, 4 of them National winners. MIZ MARGEAUX V also produced Varian Hall Of Fame Broodmare MIZ BEHAVIN V, dam of 5 champions and 2 National winners. VA MIZ BASKHAZIA is bred to produce athletes.
ARLENE MAGID
PEDIGREE RESEARCH
email Arabbits@aol.com