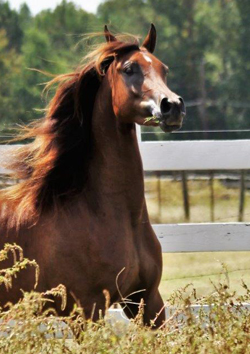 (Giaccomo x VA Chazzalainna)
2016 Bay Gelding
SOLD! Congratulations to Harry Hicklin III from Rock Hill South Carolina.
---
BROKE TO RIDE!!!!!!!!!!!!
Three year old Gelding by Giaccomo. Western or Hunter Pleasure prospect. Very athletic and loves to canter! Wonderful neck and balance on this gelding. Very laid back personality and so willing to please. Contact Dr. Valri E. Brown DVM for further information on this lovely gelding. 318-347-0867 or PM for more details.
---
VA GIAZZ has an exceptionally strong hindquarter and a good shoulder angle. His catlike movement suggests future success in working western disciplines or as a western pleasure horse. VA GIAZZ is by U.S. Top Ten Futurity and Yearling Colt GIACCOMO, 87% of whose shown get are champions! His 3/4 siblings include multiple U.S. National Champion Mare BADIAA AL SHAHANIA, U.S. National Champion Junior Stallion REHAN AL SHAHANIA, multiple U.S. Top Ten Stallion and National winner sire AL MAALIK, Ecuadorian National Champion Stallion and Supreme Champion MARJAAN and Spanish National Champion Stallion and upper level dressage horse ABHA MAHDI. GIACCOMO is a paternal brother to National Champions in western pleasure, reining, sport horse under saddle, and sport horse show hack. He is also a paternal brother to winners of Top Ten titles in country pleasure, western sidesaddle, hunt pleasure and dressage. GIACCOMO's dam G SHAMAAL has produced 3 National halter winners. She is a full sister to Middle East Junior Champion Filly G SHAHTAMAL and is a 3/4 sister to Canadian Top Ten Futurity Filly *ZT LUDJTEYNA, dam of National Champion sire *ZT MARWTEYN. GIACCOMO's maternal granddam is the unforgettable U.S. National Champion Mare SHAHTEYNA, whose 7 National winning offspring include 6 National Champions in halter.
VA GIAZZ is out of VA CHAZZALAINNA, a paternal sister to successful endurance horse VA CHAZZ SELEETA+/ and to National Halter Champion and regional country pleasure champion ALL CHAZZED UP+/. She is a maternal sister to a halter champion and to a regional hunt pleasure winner who is also a western pleasure champion. VA CHAZZALAINNA is a daughter of U.S. and Canadian Top Ten Futurity Colt and U.S. Top Ten English Pleasure MCA CHAZZ, a 3/4 brother to the breed's all time leading sire of champions AFIRE BEY V. MCA CHAZZ is a full brother to regional halter champion MCA CARDIGAN(sire of National winners in dressage and driving) and to regional western pleasure winner MCA CHERISH (dam of multiple National Champion Western Pleasure and National Champion sire AMAZING EDITION). MCA CHAZZ is a maternal brother to multiple National Champion Western Pleasure SATINWOOD and U.S. Reserve National Champion Western Pleasure Futurity and Junior Horse MCA CYPRESS (dam of U.S. National Champion Western Pleasure WC LAREDO). VA CHAZZALIANNA's dam, regional winner producer RLF-LADYALADINN, is a 3/4 sister to National Champions in halter, western pleasure, hunt pleasure, dressage, park and english pleasure.
VA GIAZZ has a promising future.
Arlene Magid Pedigree Research