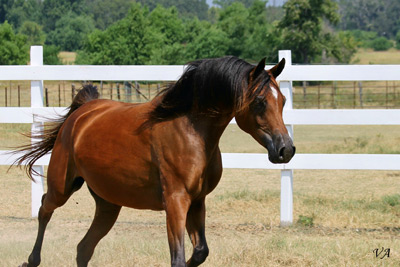 (MCA Chazz x FM Angalada)
2004 Bay Mare
VA CHAZZANE ALEXA's heritage is noted for its successful endurance horses and show ring performance stars.
VA CHAZZANE ALEXA is a paternal sister to the remarkable endurance horse KMA CHAZZ PIPER (4675 career ride miles in 13 years of competition), to National Halter Champion and regional country pleasure champion ALL CHAZZED UP+/ and to regional champions in park and western pleasure. She is a daughter of U.S. and Canadian Top Ten Futurity Colt and U.S. Top Ten English Pleasure MCA CHAZZ, a 3/4 brother to the breed's all time leading sire of champions AFIRE BEY V. MCA CHAZZ is a full brother to regional halter champion MCA CARDIGAN(sire of National winners in dressage and driving) and to regional western pleasure winner MCA CHERISH (dam of multiple National Champion Western Pleasure and National Champion sire AMAZING EDITION). MCA CHAZZ is a maternal brother to multiple National Champion Western Pleasure SATINWOOD and U.S. Reserve National Champion Western Pleasure Futurity and Junior Horse MCA CYPRESS (dam of U.S. National Champion Western Pleasure WC LAREDO).
VA CHAZZANE ALEXA's maternal siblings include regional hunt pleasure champion VA BARONQUISTADOR, VA ARMADA (a regional champion in sport horse under saddle, dressage, working hunter and hunter hack and a multiple regional winner in sport horse in hand), and RED CYRUS, sire of the very good endurance horse FARMERS DIAMOND (1300 career ride miles).
FM ANGALADA is a paternal sister to National Champions in western pleasure and country pleasure and Top Ten winners in halter. She is linebred to *SERAFIX, the all time leading Crabbet sire of champions and represents the very successful *BASK++/*SERAFIX nick that produced some of the breed's best show horses. Her sire SX CONQUISTADOR+++ won National awards in pleasure driving, formal driving and formal combination, and she traces in tail female to the gifted jumper AANADRA, dam of a National Champion in halter.
ARLENE MAGID
PEDIGREE RESEARCH
email Arabbits@aol.com