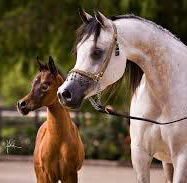 (Bravado Bey V x *Kwestura)
2004 Grey Mare
KASHMIR NA is a National winner producer as her daughter KAPRICIOUS V is a U.S. Top Ten Two Year Old Filly. KASHMIR NA is the ONLY producing daughter of the phenomenal mare *KWESTURA still breeding on in the U.S.A.
KASHMIR NA's paternal siblings include National Champions in hunt pleasure, country pleasure, native costume, English show hack, English sidesaddle and pleasure driving. She is a daughter of multiple Top Ten English Pleasure BRAVADO BEY V, also a highly successful broodmare sire whose daughters have produced National winners in English pleasure, park, native costume, halter, country pleasure, show hack, hunt pleasure, western pleasure, reining, working cow horse, sport horse in hand, sport horse under saddle, sport horse show hack, and dressage. The best known BRAVADO BEY V grandget is MIRAGE V++++//, the ONLY Arabian ever to win National Championships in working western, sport horse in hand and dressage.
KASHMIR NA's dam, World Platinum Champion Mare and U.S. National Champion Senior Mare *KWESTURA, is one of the most decorated show mares of all time. She is the only mare to be named World Senior Champon Mare twice and she was Nations Cup Senior Champion Mare at age 19, the oldest ever to win that title. She is the dam of four champions including regional halter champion and regional winner producer KASSANDRA NA, multiple Top Ten Hunt Pleasure KAMELOT NA+ , multiple National Champion Stallion and National Champion sire KABSZTAD and National Champion Reining *KUBLA KHAN NA. Four *KWESTURA offspring have produced champions, and three have produced National winners, the third being AJ KAHAYLA, dam of the stunning World Silver Champion Colt, Menton, Dubai International and Nations Cup Gold Champion Colt and 2020 Dubai Silver Champion Stallion AJ KAFU.
*KWESTURA's sire MONOGRAMM is a World and National Champion sire whose daughters have produced National Champions in halter in North America and Europe as well as North American National Champions in pleasure driving, hunt pleasure, reining, western pleasure, and sport horse carriage driving. *KWESTURA is a 3/4 sister to stakes placed racehorse *KORDELAS, also a U.K. International Champion Stallion, U.S. Top Ten Reining winner and National Champion sire. *KWESTURA's dam, Polish Junior Champion Filly KWESTA, is a maternal sister to U.S. National Champion Mare and National Champion producer *KAWALKADA.
ARLENE MAGID
PEDIGREE RESEARCH
email Arabbits@aol.com